Rare 1972 Chartreuse Oil Klapper Coupe SOLD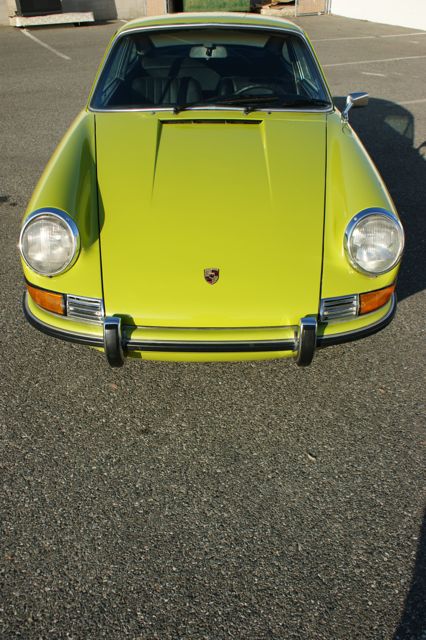 Rare 1972 Chartreuse Oil Klapper Coupe
COA On Hand Matching Numbers and Color
This car is a nice investment to drive or collect, especially with the escalating prices of this generation 911s. A California car with matching numbers.
The 1972 Porsche 911 one of the most sought after cars on the market today. These cars are appreciating in value by thousands of dollars per year. This color is one of the rarest known. Approximately 10 were built in the Chartreuse color. Perhaps half of those exist today.
VIN#9112100987 Engine number 6121572. The car was carefully color matched and repainted in it's beautiful factory correct original color of Chartreuse. Interior is Code 13 black leatherette which is verified by the included Certificate Of Authenticity (COA). A Porsche Sport Seat was added on the driver side. This rare 911T coupe is in good driving condition. Three of the four refinished Deep Six Fuchs wheels are dated correctly. .
This car drives very well, goes down the freeway straight and brakes straight. The car is stable and solid at speeds well over the legal freeway speed limit. The car is a joy to drive, starting without any smoke or hesitation, idling consistently and pulling strongly and smoothly through each of the original 5 speed transmission's gears. The engine still retains the original MFI set up. Odometer shows 08093 miles. Headlights are the upgraded H4's. The H4's have the original fluted Bosch lenses.
Interior is good. The dash has one crack and the front door pockets are in good condition. Seats have no cracks or splits. Interior has no smoke odor.
The world has really started to awaken to some of these 911s in their various shades of "Safety Colors" and it's really a shame that we don't see more of them on the modern cars.
Check out our website for cars and parts, we ship worldwide. We will assist in delivery. CaliforniaPorsches.com
Matching numbers
Clean clear CA title
Dry California car
Original floors with no rust
Original Jack Points with no rust
COA on hand
Lots of original documents and service records
Jack on hand